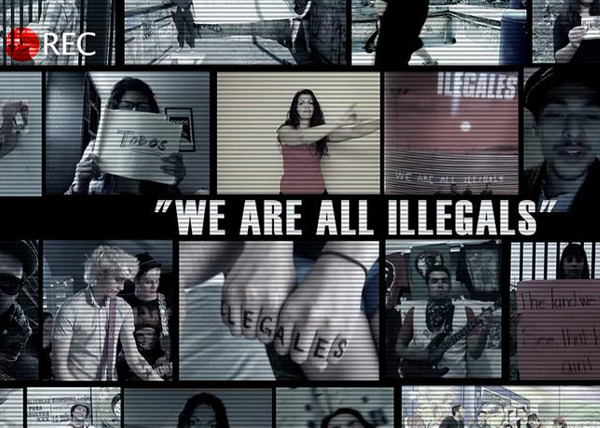 The long awaited release for "We Are All Illegals" is here with a special cameo from fans! Outernational called on you to submit videos expressing the sentiments of their song. Singer Miles Solay is featured alongside the band singing at the border, while Residente of Calle 13 spits his truth in the studio, as do Tom Morello & Chad Smith. The video launches just as the US Supreme Court has struct down 3 of 4 rules of SB 1070, in Arizona. People around the country are protesting against the fourth rule in fear that it will lead to discrimination and racial profiling against Illegal Immigrants and Citizens living in Arizona. We Interviewed Outernational at Pachanga Fest and they went more in depth about SB 1070 and their views about the issue.
Statement from lead singer Miles Solay:

Many people are once again talking about the anti-immigrant laws in Arizona and other states and the dehumanization of immigrants. As we see it, there is no so-called 'immigration problem' but there is a capitalism problem. Together with Rene Perez Joglar, Tom Morello, Chad Smith, Thom Russo, and many others, we hope to spread the 'We Are All Illegals' music video to all corners of the US, as well as throughout Latin America with the purpose of sending a clear message that the very notion of any human being deemed illegal is obscene, absurd, and obsolete. We are also making it abundantly clear that there is a growing force of people who refuse to sit idly in the face of ominous laws. One day it will seem as ridiculous for a human being to be deemed "illegal" by a government as it now seems for one person to own another person. Just as many different kinds of people need to fight back and get justice for Trayvon Martin, many different kinds of people need to stand together with our immigrant brothers and sisters. Until that day in a future society, we hereby declare, "WE ARE ALL ILLEGALS." 
Watch the video and support the cause.