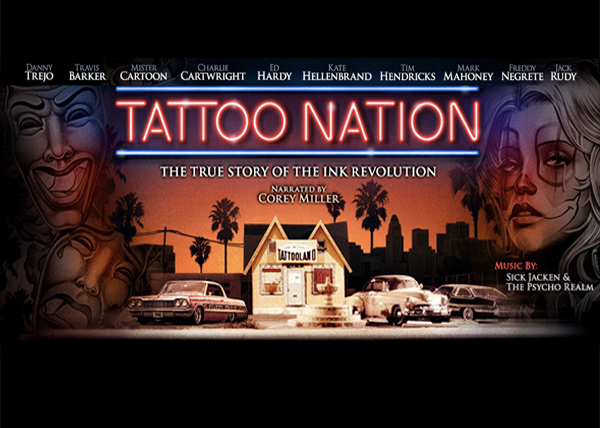 Tattoo Nation is the real story about how ink evolved in southern California in the 1970's. The feature-length documentary film follows three pioneers – Charlie Cartwright, Jack Rudy and Freddy Negrete and shows how they revolutionized the world of tattooing.
Back in the day, tattoos were a sign of rebellion and represented a tough and misunderstood connotations about the person. Today tattoos have become accessible to all and represent anything the canvas wants to show about their personalities and life story. Tattoo Nation highlights tattoo history but pays special attention to the history of SoCal's "Black and Gray" style tattooing. The film is still being release in various cities and you can pre-order the DVD and purchase the stream here: http://tattoonation.com/
The official soundtrack to the film Tattoo Nation is available now on iTunes and includes sounds from our friends – The Psycho Realm and more! To celebrate the premiere we will be giving away tickets to Psycho de Realm's PSYCHO DE MAYO at Club Nokia in Los Angeles, CA this weekend. Find out how to win here: Psycho de Mayo – Psycho Realm at Club Nokia
Synopsis

For years people saw tattoos as a sign of rebellion. A middle finger salute to the rest of the world. Outlaw bikers got tattoos. Sailors on leave in Singapore got tattoos. Lifers in the joint got tattoos. But now in the United States one out of every three adults under forty has a tattoo! So what happened? How did tattoo go from something that was put on you to an expression that comes from within you? Tattoo Nation tells the story of a few people who helped transform the world of tattoo, and the way we think about tattoos, forever. This is the true story of the ink revolution.
Starring: Danny Trejo, Ed Hardy, Corey Miller, Freddy Negrete, Jack Rudy, Charlie Cartwright, Mr. Cartoon, Mark Mahoney, Bob Roberts and more…
Directed By Eric Schwartz
Written By John Corry, Marco Jacubowicz


Get your tickets here: http://www.tattoonationscreenings.com/